Wool Drops Kid-Silk -
écru
A wonderful blend of super kid mohair and silk, a wool highly prized for its soft, light and fluffy texture. The queen of associations!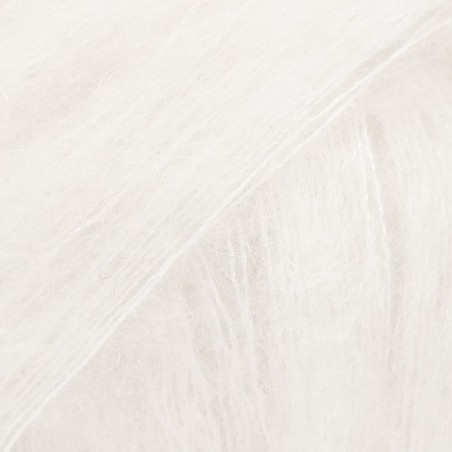 Composition : 75 % mohair, 25 % soie
Weight : +/- 25gr - Width : +/- 200m
Recommended needle size :3,5
7 balls to make a sweater size M (38-40)
Made in : CE Origin of the material: : Made in EU
DROPS Kid-Silk is a high quality yarn, blend of 75% super KID Mohair and 25% Mulberry silk.
Light and soft wool that gives a very fine and slightly fluffy effect. This wool yarn can be knitted alone or in combination with another yarn.
DROPS Kid-Silk is a very pleasant yarn to knit, usually Mohair is not recommended for beginners because of the fluffiness of the fiber. But the Kid Silk from Drops is ideal for beginners, as it is easier to undo in the event of a mistake. Ideal yarn for scarves, shawls, stoles, cardigans and sweaters.
DROPS Kid-Silk is considered a fine yarn, it is also very popular for delicate projects and feminine accessories. As the yarn is fine it may be necessary to knit or crochet a tighter gauge than usual to achieve the correct tension.
DROPS Kid-Silk is a yarn very frequently used in combination with other yarns. In this case, it is very important to follow the care instructions for the more delicate of the two wools.
DROPS Kid-Silk can also be knitted alone to obtain an airy and transparent texture, or mixed with other yarns to add softness and shine to your creations.
Customers who bought this product also bought: